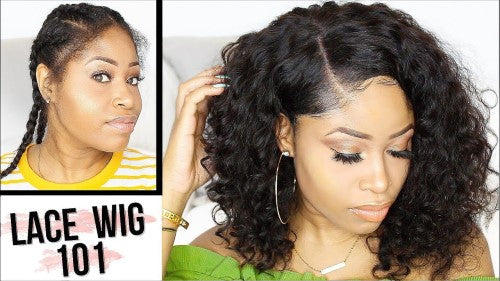 How To Install A Wig For Beginners | Step By Step
For a glueless installation, you only need 3 steps. First, flatten your hair and apply a stocking cap or a wig cap. Next, make adjustments to the wig such as tightening straps and trimming the lace. Last, apply your wig. Once your wig is perfectly arranged, you can style it any way you'd like! 
Step 1: Prep Your Hair
As with any multi-step process, preparation is key. Wigs can be a great protective style that allow for your strands to say safe and tucked away, promoting growth and length retention, as long as your hair is well prepped. Hair health is also key, so make sure your hair is properly cleansed, detangled, and moisturized before braiding it back — consider doing a deep conditioning treatment during your pre-wig wash day to really ensure that your hair is thoroughly moisturized.
Flatten your hair. The flatter your hair is against your head, the better the wig will look. You can braid short hair into corn rows or mold it against your head using gel and bobby pins. For long hair, first tie your hair in a low ponytail. Next, wrap the ponytail into a flat bun and secure it with bobby pins.
Allow any gel or hairspray to dry before continuing.
Step 2: Apply A Stocking Cap
Stocking caps, or wig caps, are soft caps that flatten your hair and help the wig stay in place. Gently pull on the stocking cap, being careful not to disturb your flattened hair. Adjust the cap so that it barely covers your hairline.
If you have little to no hair, skip this step. Otherwise, the cap will slide around your head and bunch up under your wig.
Make sure all of your hairs are tucked into this cap, even the hairs on the nape of your neck.
Step 3: Apply The Wig
Test the fit of the wig. Before moving forward, or apply any adhesives, you need to make sure the wig fits properly. To do so, place the wig on your head and line it up with your natural hairline. If the wig has tightening straps on the inside, you may need to adjust these for a proper fit. If the wig doesn't fit and it doesn't have any tightening straps, contact the manufacturer for help.
If you can feel a strong ring of pressure around your scalp, the wig is too tight. Loosen the straps slightly.
If the wig slides around when you move your head, the wig is too loose. Tighten the straps.
Trim the lace.
Once your wig fits properly, you need to trim the lace. Use a few clips to pull the hair away from your face. Next, using sharp pinking shears, trim the lace along your natural hairline. You should leave about 1/8 inch (3 mm) of lace. This will only have to be done the first time you wear the wig.
Some wigs don't need to be trimmed before wearing. These wigs have little to no excess lace at the front of the wig.
You can buy pinking shears at sewing supply stores.
Apply the wig.
 Carefully pull the wig on. First, adjust the edge of the wig so that the hairlines match. Next, adjust the back of the wig so that it hangs naturally over your hair. Lastly, press the lace of the wig into your adhesive or wig tape.
Once you press the lace into the adhesive or wig tape, it's very hard to remove. Be sure that the wig is perfectly aligned before doing so.

If you're really new to this and have never installed a wig before, YouTube tutorials will be super helpful.
Step 4: Style
Style your hair. You can use regular brushes, hot styling tools, and hair products to adjust your hair.
Applying a lace front wig can be very easy and fast if you purchased a quality & pre-customized wig, because under that situation, you no longer need to pre-pluck the hairline or bleached the knots by yourself to make it natural. You may even only need to cut the lace and put it on & go!