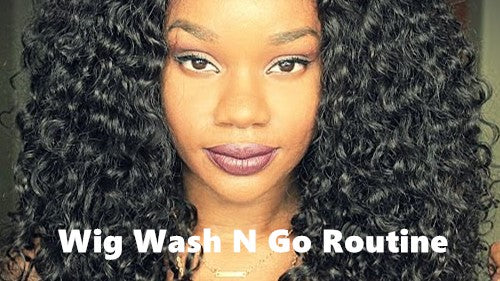 How To Wash & Maintain Your Human Hair Wigs?
Take off your wig.
 First, remove any adhesives or tape with a commercial wig adhesive remover or regular baby oil. To do so, rub the remover along your hairline where the lace meets the adhesive. Continue rubbing gently until the lace lifts away from your scalp.
Do not pull the lace to remove it you will damage the wig.
Wash the wig regularly. Depending on the manufacturer recommendations, your wig will need to be washed after 8-12 wears. First, brush any tangles from the wig. Next, shampoo and condition the wig in a sink filled with warm water. Place it on wig stand and let it dry completely before brushing or combing it. This will help wig last for months instead of weeks.
Human hair can be washed with regular shampoo and conditioner. However, synthetic wigs require their own specialized shampoo and conditioner.
Specialized shampoos and conditioners can be purchased at beauty supply stores or directly from the wig manufacturer.
Store the wig properly. Proper storage will prolong the life of the wig. Keep the wig on a wig stand when it's not in use. If you're in between washings, make sure the wig is free of any adhesives or tape before storing it.
You can buy a wig stand at wig supply stores or online.